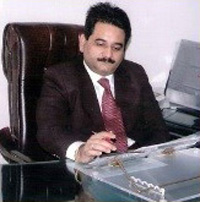 Prof. (Dr.) R.K. Dhawan
Director Principal
Director's Message
Dear Students,
As there are countless challenges emerging in the fast changing world and in a lot of pressure of globalization and modernization, there is a dire need to equip the students and the faculty with whatever is the latest and the best in the world of knowledge. We are living in the 21st century and learning should be viewed as the most important investment that anyone can undertake.

Keeping in view the trade of the time of the trans-continental exchange of concepts and methodologies in the recent years, we have been trying to accord importance to high-tech teaching methodologies and to orient our energies, resources and infrastructural facilities to introduce course which are the need of the hour. Medical Lab Technology is a consistently evolving and rewarding carrier. As new discoveries advances scientific knowledge, the technologist's role will continue to change and expend.

Even now, we can see the impact of future tests that may be developed for diagnosing such health problems as cancer or genetic disorders. Taken into account, we succeeded in opening the new college of Medical Lab Technology in 2013 affiliated to PTU, Kapurthala. Considerable investment in the college has been made over in order to meet the future demands. The college is committed to provide job oriented quality education through the use of innovative techniques and smart teaching practices with dedicated faculty. Strong links with hospitals and medical colleges of India help to give you the best possible start to your career.

This prospectus will introduce you to our college & give details about course offered, eligibility criteria, rules & regulations, facilities available, hostels & other services. I advise the students & parents to go through this prospectus carefully. It is only with the whole hearted support, cooperation and confidence of the parents and students in us that we will be able to fulfill our mission of providing new dimensions to education. Come join Khalsa College of Pharmacy &Technology and make yourself germane to society and country.

With Best Wishes,
Prof. (Dr.) R.K. Dhawan
Director Principal